UK label Ministry of Sound has filed suit against Spotify, alleging that Spotify users are creating playlists that are identical to compilations created by MOS. Apparently, Spotify users are creating playlists that mirror MOS compilation albums, at times even using MOS in the name of the playlist.
Photo credit: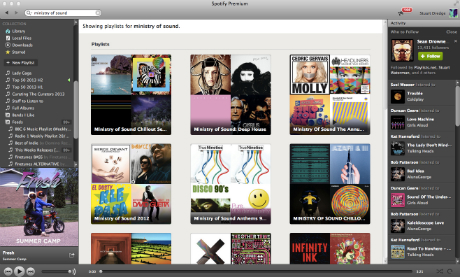 According to the story in The Guardian, "The case will hinge on whether compilation albums qualify for copyright protection due to the selection and arrangement involved in putting them together. Spotify has the rights to stream all the tracks on the playlists in question, but the issue here is whether the compilation structure – the order of the songs – can be copyrighted."  That might be the case in the UK, but in the US I think the question is different.
The Copyright Act clearly protects compilations–a defined term in Sec. 101 ("A "compilation" is a work formed by the collection and assembling of preexisting materials or of data that are selected, coordinated, or arranged in such a way that the resulting work as a whole constitutes an original work of authorship.").  The question I have is whether Spotify can be liable for the playlists created by its users.  This strikes me as a claim of secondary liability – since Spotify isn't undertaking any volitional action in the creation of the playlist.  There might be an opportunity to issue a DMCA takedown request, but Spotify actually has the rights to stream the songs in question.